Summer 1985 // Volume 23 // Number 2
Welcomes and Thank You's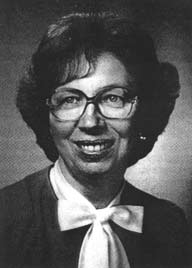 Meet Our New Editor
Patricia Jarboe Buchanan, University of Missouri, will become editor of the Journal on July 1. She is the coordinator of Affirmative Action for Missouri Cooperative Extension Service and teaches a graduate course on program development and evaluation. Her previous position was Extension area textiles and clothing specialist. Her influence extends far beyond the borders of Missouri, however. She's a past president of the National Association of Extension Home Economists and has served on the ECOP subcommittees on Agent Associations and on Home Economics. She's a member of Phi Delta Kappa, Administrative Management Society, and the American Association for Adult and Continuing Education. She's a graduate of Purdue University and has her master's and doctorate from the University of Missouri. The staff of the Journal and all of our readers are fortunate to have a person with Pat's abilities and experiences accept this responsibility. Her term extends through June, 1987. Welcome, Pat.
Extension Crossroads
We continue to hear that Extension is at a crossroads. I think what we're really saying when we use this expression is that we need to appraise where we are and make decisions as to where we want to go in the immediate as well as the more distant future. As I write this, the U.S. Congress, most state legislatures, and many local governmental units are doing the same thing. Most of these governmental units will still be doing the same thing when you read this. Many of their decisions will provide new crossroads for Extension.
Some of the signs at these crossroads will be clear and some will require interpretation and assumptions. We'll like what we read on some of the signs, while some will contain information we wish wasn't there. Some of us will read these signs and become discouraged. I continue to remain an optimist. My reasons stem from my fundamental belief that education can benefit people and help them achieve a more satisfying quality of life, and from the fact that land-grant universities have a knowledge base that can be extended and have the potential to benefit all citizens of the world. I also believe we have the courage to face the new crossroads and make decisions that need to be made if the knowledge base at our disposal is to be available in usable form to these citizens.
The Journal of Extension, under the leadership of Pat Buchanan, will continue to present information and ideas Extension staff members can use to make decisions that current and future crossroads will require.
Roger L. Lawrence, Editor