October 2014
Volume 52
Number 5
Article #v52-5iw8
Ideas at Work
October 2014 // Volume 52 // Number 5 // Ideas at Work // v52-5iw8
Developing Commercial Identities to Raise Awareness of Local Seafood
Abstract
The North Carolina commercial fishing industry is in decline despite a rising demand for local seafood. To increase market awareness and sales, citizens in six coastal counties branded their seafood to help consumers select local over imports, when given a choice. Educational materials and websites were developed to help consumers learn the seasonality and the characteristics of fresh, local products. Consumers surveyed said brands would help them identify the seafood harvested by local fishermen. They also indicated seasonality and quality charts would help them choose seafood in season and discern the freshness of local commodities.
---
Until the late 1990s, North Carolina fishermen earned sustainable incomes distributing wild-caught seafood along the United States East Coast without a commercial image to identify their commodities or trade. As globalization opened domestic markets to less expensive, imported seafood, price became a deciding sales factor. Due partly to declining market share and revenue, fishermen began abandoning their industry. The number of licensed fishermen participating in the North Carolina seafood industry declined from 5,495 in 1995 to 3,169 in 2012, a 42.3% reduction (North Carolina Division of Marine Fisheries, personal communication, August 19, 2013). Furthermore, the number of seafood packers declined 36% between 2000 and 2011. (Garrity-Blake & Nash, 2012).
The North Carolina seafood industry is contracting at a time when the demand for local seafood has risen over the past two decades, particularly among educated professionals with high incomes and socioeconomic status. Consumers, though, need to know what seafood is local and seasonal if domestic fishermen are to gain a market advantage over their foreign competition (Chamberlain, Kelly & Hyde, 2013).
Social Marketing
Altering the way people purchase seafood requires a behavior change. The primary objective of social marketing is to alter long-term perceptions and behaviors rather than influence a short-term purchasing decision. Consumers are offered information that raises their awareness of an opportunity or an issue so they can make educated rather than impulse-driven choices. A social-marketing program must strive to affect voluntary behavior, as well as help a target audience or society as a whole, not the organization conducting the program (Andreatta, Nash. & Martin, 2011). Clear, consistent messages are essential to build brand equity in the information trade (Abrams, Meyers, Irani, & Baker, 2010).
The authors assisted fishermen in the coastal North Carolina counties of Brunswick, Carteret, Currituck, Dare, Hyde, and Tyrell to apply social-marketing principles to encourage consumers to choose local seafood. A key strategy underlying this behavior change was to inform consumers what commodities were local and seasonally available. To further enhance the value of local seafood, the authors encouraged fishermen to: 1) highlight the state and federal regulations that protect the viability of fish stocks and seafood safety and 2) explain how commercial fishing shapes their livelihoods and communities. A 2008 survey by the University of North Carolina at Chapel Hill showed consumers prefer local seafood because finfish and shellfish stocks are managed for continuity, fishermen and packers comply with regulations that protect seafood safety, and buying local supports fishing communities (Nash & Andreatta, 2011).
Building Branding Programs
The authors partnered with community volunteers comprised of fishermen, packers, chefs, educators, and various civic leaders to launch four, local-seafood brands and educational initiatives between 2005 and 2010, according to guidelines described in Branding Seafood (ncseagrant.ncsu.edu/ncseagrant_docs/products/2000s/bp_branding_seafood.pdf), a North Carolina Sea Grant publication that provides direction on developing a marketing strategy. Developing and promoting a brand is time intensive and costly. To make efficient use of limited resources, the volunteers established umbrella organizations to include fishermen, packers, restaurants, and seafood retailers within specific geographical boundaries. Each initiative developed a website to help fishermen communicate the availability of local seafood and to provide background on participating businesses to consumers who research their local food options online (Garrity-Blake & Nash, 2012).
The first initiative, Carteret Catch: Select N.C. Seafood from the Fishermen of Carteret County (www.carteretcatch.org), debuted in 2005 and served as a model for the other three programs. The words and imagery in the brand (Figure 1) have particular connotations.
Figure 1.
Carteret Catch Brand and Logo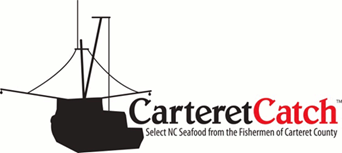 "Catch" is meant to project an image of seafood to consumers. "Select" is meant to convey only the best or high quality. The phrase "from the Fishermen of Carteret County" tells consumers their seafood has been harvested by a local fisherman. The logo features the silhouette of an actual fishing vessel belonging to a Carteret Catch fisherman. To use the brand, fishermen, packers, restaurants, and retailers pay an annual membership fee to certify they are selling locally harvested seafood. Members then receive flags and window stickers bearing the logo to identify their membership to patrons.
Brunswick Catch (www.brunswickcatch.com) and Ocracoke Fresh (www.ocracokeseafood.com) were launched in 2009; Outer Banks Catch (www.outerbankscatch.com) debuted in 2010 (Figure 2). The salient message of each umbrella brand is "fresh, seasonal seafood harvested by local fishermen."
Figure 2.
Four Local-Seafood Educational Initiatives Span the North Carolina Coast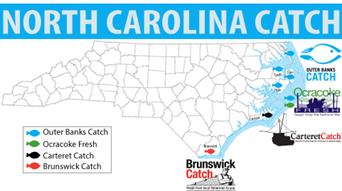 To underscore this theme, each organization features the "North Carolina Seafood Availability" and "Quality Counts" charts on their websites. These materials help consumers learn when their favorite seafood is in season and the characteristics of freshness. Supplementing these materials are wallet-size cards that show the availability of local seafood in each of the four seasons. The cards were branded as "Local Catch: North Carolina Seafood Availability." Go to ncseagrant.ncsu.edu/program-areas/education-training/consumer-awareness/ to view these materials.
Social Marketing Impacts
A survey by the University of North Carolina-Greensboro at the 2010 North Carolina Seafood Festival's Cooking with the Chefs program (ncseafoodfestival.org/cooking-with-the-chefs/) showed 78% of 299 people said local brands would help identify the seafood that is landed by North Carolina fishermen. Eighty-eight percent indicated the seafood availability poster would help them learn to eat seafood in season, and 87% believed the quality poster would help them discern the freshness of their seafood purchases (Mosher, 2011).
The success of the four coastal initiatives in raising the awareness of local seafood resulted in the debut of North Carolina Catch (www.nccatch.org) in February 2012. The mission of this newest program is to assist the seafood industries in all 20 coastal counties increase the visibility and demand for North Carolina seafood among residents and tourists across the state.
References
Abrams, K., Meyers, C., Irani, T., & Baker, L. (2010). Branding the land grant university: Stakeholders' awareness and perceptions of the tripartite mission. Journal of Extension [On-line], 48(6) Article 6FEA9. Available at: http://www.joe.org/joe/2010december/a9.php
Andreatta, S., Nash, B., & Martin, G. (2011). Carteret Catch TM: Raising awareness of local seafood through community and business partnerships. Human Organizations, 70(3), 280.
Chamberlain, A., Kelley, K., & Hyde, J. (2013). Mid-Atlantic consumer purchasing behavior and knowledge of locally grown and seasonal produce. Journal of Extension [On-line], 51(2) Article 2RIB4. Available at: http://www.joe.org/joe/2013april/rb4.php
Garrity-Blake, B., & Nash, B. (2012). An inventory of North Carolina fish houses-A five-year update. North Carolina Sea Grant, UNC-SG-12-06. Retrieved from: http://ncseagrant.ncsu.edu/ncseagrant_docs/products/2010s/fishhouse_inventory_2012.pdf
Mosher, K. (2011). Local catch: …And the survey says: Local seafood reigns. Coastwatch, Winter. North Carolina Sea Grant. Retrieved from: http://ncseagrant.ncsu.edu/coastwatch/previous-issues/2011-2/winter-2011/local-catch-and-the-survey-says-local-seafood-reigns/
Nash, B., & Andreatta, S. (2011). New business models for small-scale fishermen and seafood processors. North Carolina Sea Grant, UNC-SG-11-05. Retrieved from: http://ncseagrant.ncsu.edu/ncseagrant_docs/products/2010s/new_biz_model_fishermen_11-05.pdf
---