June 2008 // Volume 46 // Number 3 // Feature Articles // 3FEA3
eXtension Financial Security for All: A Community of Practice to Increase Financial Literacy
Abstract
Communities of Practice (CoPs) are networks of professionals with a common interest in a subject or problem who collaborate over time to share ideas and develop innovations. This article describes the mission, history, and deliverables of the Financial Security for All (FSA) CoP of eXtension, the Cooperative Extension System's Internet-based, customer-centered, virtual, and evolving educational environment. Financial security is the ability to meet day-to-day expenses while saving and investing for tomorrow (e.g., emergencies and retirement). Financial Security for All (FSA) provides online financial information 24/7/365 and was among the first wave of eXtension CoPs released by eXtension for public use.

---
eXtension (pronounced ee-extension) is designed to provide just-in-time information and learning opportunities to people via the Internet 24/7/365 (Meisenbach, 2006). Initially funded through state and federal dollars and eventually with additional resources from non-government partners, eXtension is designed to complement placed-based Extension education in city and county government offices. Communities of Practice (abbreviation: CoPs) are networks of professionals within an organization, in this case eXtension, with a common interest in a subject or problem who collaborate over an extended period to share ideas, find solutions, and develop innovations (Neus, 2001).
CoPs develop social capital and can, thus, play a significant role in reaching organizational objectives. Interested parties make connections and collaborate without the expense of in-person meetings and without regard for institutional structures and hierarchies. CoPs are informally bound by what they do together and shared community resources that they develop over time (Wenger, 1998). This article describes the mission, history, and deliverables of the Financial Security for All (FSA) CoP of eXtension, the Cooperative Extension System's Internet-based, customer-centered, virtual, and evolving educational environment.
Financial Security for All (abbreviation: FSA) is eXtension's portal to personal finance information for people of all ages. It can be accessed at http://www.extension.org/personal_finance. Financial security, the ability to meet day-to-day expenses while saving and investing for tomorrow, is on the agendas of many individuals and, families, as well as policy-makers and government, non-profit, and business leaders (Taking Ownership of the Future, 2006). Financial Security for All (FSA) was among the first wave of eXtension Communities of Practice (CoP) and the second one released by eXtension for public use in early 2007. This topic was chosen to lead eXtension work as a direct result of online learning tools previously developed and widely used through the national Cooperative Extension initiative Financial Security in Later Life (see http://www.csrees.usda.gov/fsll).
Communities of Practice in Education
The Communities of Practice (CoP) concept related to learning has been credited to the Institute for Research on Learning, a Xerox Corporation spin-off (Communities of Practice, n. d.). Communities of Practice are based on the following assumptions:
Learning is fundamentally a social phenomenon.


Knowledge is synergized into the life of communities that share values, beliefs, languages, and ways of doing things.


The processes of learning and engagement in a community of practice are inseparable.


Knowledge is inseparable from practice.


Empowerment--or the ability to contribute to a community--creates the potential for learning (Communities of Practice, n. d.).
People are any organization's most important resource. Social capital in educational organizations can be leveraged by the synergy that comes from communities through which professionals develop and share the capacity to create and use knowledge. These mostly informal communities of practice are distinct from organizational units but, according to Lesser and Storck (2001), can be an educational organization's most versatile and dynamic knowledge resource and add increased value to its products.
Why are CoPs an important component of many businesses and educational organizations today? It's all about numbers and outreach. The number of Americans who use the Internet continues to increase. Pew Research's Internet Penetration and Impact survey showed that fully 73% of respondents (about 147 million adults) are Internet users, up from 66% (about 133 million adults) in their January 2005 survey (Internet Penetration and Impact, 2006). The share of Americans who have broadband connections at home has now reached 42% (about 84 million), up from 29% (about 59 million) in January 2005. And, according to the Pew Research Major Moments Survey in March 2005, 45% of respondents said the Internet played a major role as they made major investment or financial decisions (The Internet's Growing Role, 2005).
Financial Security for All (FSA) Communities of Interest
A Community of Interest (abbreviation: CoI) is an informal group of people who share a common interest or passion, such as particular cars, pets, or hobbies. These people exchange ideas and thoughts about the given passion, but may know (or care) little about each other outside of this area. Participation in a community of interest can be compelling and/or entertaining, and create a community where people return frequently and remain for extended periods.
From an educational standpoint, participation in a Community of Interest that is linked to sound, research-based information can lead to both personal and/or professional educational growth and development. A Community of Interest can be loosely defined as the consumers of online content, while a Community of Practice consists of the network of professionals who develop it.
Three distinct Communities of Interest (CoI) were established based on various target audiences or CoIs, as part of the FSA CoP. The title of each CoI and a description of its target audience follow.
Financial Security in Later Life--baby boomers and people facing a retirement income gap (especially women, minorities and employees of small businesses, including agricultural industries) and older adults striving to preserve and transfer wealth;
Youth Financial Literacy--youth of all ages and parents, teachers, and others who work with youth;
Financial Stability--persons who are financially vulnerable due to personal and family transitions, bankruptcy, loss of a job, health crises, low-wage employment, limited incomes, and/or overwhelming debt.
The CoP interacts with these online users in a variety of ways, including featured resources, Ask the Experts (ATE), interactive learning modules, and Frequently Asked Questions (FAQs). The leadership group is comprised of faculty from a six land-grant universities (Figure 1). The CoP leadership team develops policies, procedures, and methods to best interact with both the CoP as a whole and the CoI.
Figure 1.
Financial Security for All Community of Practice Leadership Team


Chair - Debra Pankow, North Dakota State University
Vice Chair and Financial Security in Later Life - Nancy Porter, Clemson University
Financial Stability - Sharon Seiling, Ohio State University
Youth Financial Literacy - Judy Branch, University of Vermont
Key Word Teams Coordinator (FAQs and ATE) -Barbara O'Neill, Rutgers University.
Instructional Designer - Erik Anderson, University of Idaho
CSREES Liaison - Jane Schuchardt, national family economics program leader, USDA
Administrative Advisor Linda Kirk-Fox, Washington State University Extension Director
The FSA CoP is comprised of 144 (as of September 2007) land-grant faculty and state, regional, and county Extension professionals, representing 45 states and one territory, and 1994 (Native American Community Colleges, 1862 (Original Land Grant Universities), and 1890 (traditionally Black Universities) institutions. See Figure 2, FSA Organizational Chart. Note that this organizational chart is dated June 2007. Since that time, many more Extension professionals and others outside of Extension have joined the Community of Practice, utilizing the people.extension.org website to join a CoP.
Figure 2.
FSA Organizational Chart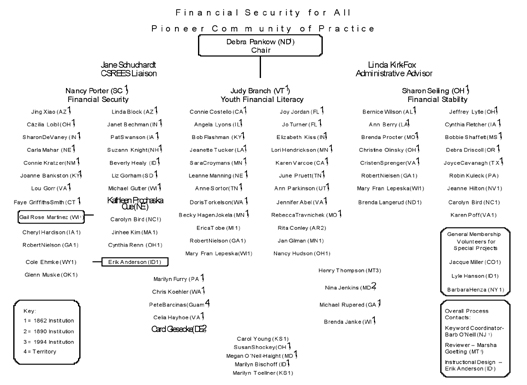 Members will be added as the CoP develops, including representatives from other institutions, businesses, agencies, and organizations as appropriate. Members of the Community of Practice have verified their support of the vision, goals, and guiding principles of eXtension by agreeing to a statement that describes the guiding principles of eXtension. Each subgroup began building a national "virtual" team that interacts through instant messaging, net meetings, and the CoP Wiki (a Web portal for eXtension CoP members that facilitates the review and editing of documents), as well as traditional distance communication methods--telephone conferencing and email.
Membership in the CoPs is fluid as eXtension attracts new professionals and loses members when their positions and responsibilities change. Most of its members have chosen to work on key word teams for one or more of the following functions: Frequently Asked Questions (FAQs), Ask the Experts (ATE), and publications review. Youth sub-group members are also involved in creating interactive learning modules for their target audience.
Financial Security Community
The Financial Security community evolved from the national Extension initiative, Financial Security in Later Life (FSLL). FSLL was implemented in 2000 to strengthen the Cooperative Extension System's capacity to deliver personal finance education to improve the financial security of older adults. FSLL provided a model for Extension to efficiently serve educators, as well as consumers, in technologically improved ways that provide accurate and just-in-time information. A National Initiative Management (NIMT) team guided the development of FSLL, which uses a technological approach to facilitate multi-state and multi-institutional collaboration, document impacts, and increase program visibility. FSLL served as a model for the use of the Internet for program design, delivery, and evaluation, and selected initiative programs were later transitioned into eXtension, (Porter, DeVaney, Poling, Stum, & Schuchardt, 2005). In addition, the initiative provided an online system for aggregating the impacts of programs delivered in the various formats (Porter et al., 2005) that will be utilized by the eXtension FSA CoP.
Initially, FSLL focused primarily on providing professional development training materials, curricula, program materials, and resources to educators online. Nearly all of the initiative programs and information have been transitioned to eXtension Financial Security for all and designed to be accessed online directly by consumers. Learning modules currently available in the Financial Security area include: Legally Secure Your Financial Future, Planning for a Secure Retirement, Investing for Your Future, Who Will Get Grandpa's Farm, Retirement Estimator for Farm Families, Getting Ready for Estate Planning, and Getting Motivated for Estate Planning.
Youth Financial Literacy Community
Youth Financial Literacy is the second of three distinct audiences targeted by the FSA CoP. With considerable Extension information, as well as other reliable resources for youth financial literacy education (see http://www.jumpstart.org), the first challenge for the youth subgroup was to pull these resources together to share with the public. Resources that relate to youth financial literacy are being developed and targeted at youth, parents, and educators.
Financial Stability Community
The Financial Stability component of the FSA CoP addresses basics of money management, including prevention and/or recovery from financial crises. The site includes a basic money management curriculum for bankruptcy filers with lessons on setting financial goals, developing and using a spending plan, understanding and selecting insurance policies, and money management techniques such as tracking spending, managing debt, creating a fund for unplanned expenses, and building a savings account. A large array of other print and interactive materials is also available on specific money management topics.
Frequently Asked Questions
A function of all eXtension CoPs is the frequently asked questions database. It captures questions answered on a continual basis and reduces duplication of efforts across the Extension system. Cooperative Extension, as a system, spends many hours helping clients find answers to their questions; many of those questions are asked over and over, by different people in different counties and states. Frequently asked financial questions have been captured so that consumers can self-search information about topics such as banking, budgeting, children and money, credit, debt, identity theft, employee benefits, estate planning, home ownership, taxes, insurance, and investing.
A complete list of key words for FAQ review teams for can be found in Figure 3. Users are provided with responses to questions that have been reviewed by experts from across the Extension system. The FSA CoP database had almost 800 published FAQs in September 2007, with ongoing plans to add more. Responses often include links to selected fact sheets and other resources to provide additional information related to a question. This new way of providing access to Cooperative Extension information is available online at any hour of the day.
Figure 3.
List of Key Words for Ask the Experts (ATE) and Frequently Asked Questions (FAQ) Teams


Children and money
Consumer credit
Consumer education
Estate planning
Financial planning process
Health finance
Homeownership
Insurance
Legal topics
Lifestyle transitions
Money emotions
Retirement planning
Saving and investing
Talking about money
Ask the Experts
Users of interactive Web sites expect personalized services such as timely answers to their questions. A value-added feature of the FSA community is the ability of users to pose a financial question to a volunteer panel of experts who are members of the CoP. All expert panel members are experienced financial educators, and many hold doctoral degrees or designations such as Certified Financial Planner®. Once answered, ATE questions are edited into a more generic format and posted as FAQs. Fourteen general personal finance topics are used to organize both the Ask the Experts (ATE) and Frequently Asked Questions (FAQ) sections of the FSA CoP.
Expert panelists are advised to keep their answers brief (five to six sentences) so as not to invite multiple follow-up questions (Figure 4). In addition, they are asked to provide generic, research-based financial information that presents alternative strategies and/or pros and cons and suggest the use of professional advisors for complex situations. Answers may provide several viable options but do not tell consumers what to do or recommend specific products or providers. Experts are asked to deflect all requests where consumers want someone to tell them where to put their money or other very specific, individual actions. They should also include links to featured publications within the FSA CoP and appropriate learning tools such as Legally Secure Your Financial Future and Investing For Your Future.
Figure 4.
Guidelines For Ask the Experts


Subject areas (key words) will reflect the subject matter content of the FSA Web site.
Ideally, 3 to 5 experts will be secured for each ATE subject area (e.g., credit, investing).
Experts will be asked to serve a 2-year term (starting from when the FSA Web site goes live) and can reapply to serve again for as long as they are interested.
Experts should be financial management specialists or county Extension faculty who focus their work primarily on financial management programming. Credentials like a Ph.D., CFP®, and AFC are desirable, but not required.
Once an ATE question is completed, it is forwarded to the FAQ system for peer review and posting as an FAQ if it is deemed to be of broad interest to eXtension users.
Developing Educational Materials in a Wiki
Wiki-wiki is the Hawaiian word for quick. Wiki Web sites are sites designed for users to be able to make additions to or edit any page of Web site content, thus avoiding the problems associated with multiple parties using the "track changes" feature of word processing software (Neus, 2001). A registered user can change any page. The changes are stored in the page's history, and any other user can review that log and undo incorrect or unnecessary changes.
The Wiki concept is an example of utilizing the collaborative nature of a Community of Practice to design and develop materials and carry out its educational objectives. The FSA CoP uses the eXtension Wiki Web site to develop content and learning module and also for organization of community "business" such as the posting of procedures, policies, and minutes of meetings.
Soft and Hard Launch
The FSA CoP was launched internally to the land-grant university system in November, 2006 at a Cooperative Extension pre-conference to a national professional conference. Nearly 100 Extension educators and specialists were in attendance. Features highlighted at the launch were the financial terms glossary, FAQs, numerous featured resources, and several learning modules. Also included were a calendar feature, where learning opportunities for both professionals and the general public are featured, and a News Room, where seasonal and timely news stories are available for these same audiences.
The soft launch allowed the CoP and eXtension leadership to test the site and work out glitches with users within the land-grant system. The external launch for the general public occurred in February 2007. During the following 6 months, the pages in the Financial Security for All site have been viewed over 5,000 times.
The Future
The FSA CoP plans to increase the number of resources in its second (2007) and third year (2008) plans. Specifically, an eCommerce bankruptcy education module is being developed, and resources in the Financial Stability and Youth Financial Literacy areas are being secured, reviewed, revised, and/or developed. Within the Community, leaders seek to address the sustainability of leadership, explore more shared leadership, provide recognition for members, and identify Promotion, Tenure, and Evaluation (PT & E) benefits of participating in the CoP.
While Communities of Practice have been found to play a real role in the development of social capital (Lesser & Storck, 2001), the real challenge for their leaders is to manage continual growth and development of the community. While participating in the FSA CoP provides opportunities for individuals to make new connections, time and space must be allowed for relationship building among individuals. Special emphasis also needs to be placed on improved understanding of how Communities of Practice deliver benefits, not only to consumers, but to members and their employers through providing leadership, answering Frequently Asked Questions, serving as an expert in Ask an Expert, and developing resources.
Conveying those benefits (e.g., access to a large database of peer-reviewed questions, hands-on learning about the use of new technologies, detailed documentation of eXtension service, and national visibility in one's areas of expertise) to potential CoP members and their administrators is critical to the success of eXtension. To address this issue, a fact sheet, Maximizing the Use of eXtension FSA CoP <http://cop.extension.org/mediawiki/files/8/83/Maximizing.pdf> was developed to list the benefits of CoP participation. In addition, as eXtension progresses, it is anticipated that the lines between the Communities of Interest (CoIs) and the Communities of Practice (CoPs) will become blurred as the users/consumers/professionals interface with each other to create new and more useful knowledge.
Summary
Communities of Practice (CoPs) are a new way for Cooperative Extension educators to "do business." eXtension provides a new paradigm for Extension program delivery in the family economics field and other subject matter areas. Consumers now have the benefit of materials developed by Extension professionals nationwide, as well as the opportunity to receive personalized feedback on topics of interest through the Ask the Experts and Frequently Asked Questions features. Part of the excitement and challenge of working in the eXtension system is creating a new culture in communication and interaction.
As consumers are increasingly becoming both well informed and technologically savvy, they seek out the best un-biased information that is available when they need it. The research-based and peer-reviewed educational materials of the eXtension Financial Security for All Community of Practice are a new way to meet the demand for timely, unbiased, personal finance information.
Acknowledgement
The co-authors would like to acknowledge the accomplishments and support of the other members of the FSA CoP: Nancy Porter, Clemson University; Sharon Seiling, Ohio State University; Judy Branch, University of Vermont; Erik Anderson, University of Idaho; Jane Schuchardt, CSREES-USDA; and Linda Kirk-Fox, Washington State University.
References
Communities of practice (n.d). Retrieved December 7, 2006 from: http://www.funderstanding.com/communities_of_practice.cfm
Internet penetration and impact (2006). Pew Research. Retrieved December 7, 2006 from: http://www.pewinternet.org/PPF/r/182/report_display.asp
Lesser, E. L., & Storck, J. (2001). Communities of practice and organizational performance. IBM Systems Journal 40(4), Retrieved November 20, 2006 from: http://www.research.ibm.com/journal/sj/404/lesser.html
Maximizing the use of eXtension FSA CoP (2006). Retrieved January 25, 2007 from: http://cop.extension.org/mediawiki/files/8/83/Maximizing.pdf
Meisenbach, T. (2006, Feb. 1). EXtension is. Retrieved April 14, 2005 from: http://about.extension.org/about/
Neus, A. (2001). Managing information quality in virtual communities of practice. Lesson learned from a decade's experience with exploding Internet communities. IQ 2001: The 6th International Conference on Information Quality at MIT. Boston. Retrieved December 7, 2001 from: http://opensource.mit.edu/papers/neus.pdf
Porter, N. M., DeVaney, S., Poling, R. L., Stum, M. S., & Schuchardt, J. (2005). Financial security in later life: A national initiative and model for eXtension. Journal of Extension [On-line], 43(6), Article 6FEA6. Available at: http://www.joe.org/joe/2005december/a7.shtml
Taking ownership of the future (2006). Washington, DC: Financial Literacy and Education Commission, U.S. Department of the Treasury.
The Internet's growing role in life's major moments (2005), Pew Research. Retrieved December 7, 2006 from: http://www.pewinternet.org/PPF/r/181/report_display.asp
Wenger, E. (1998). Communities of practice. Learning as a social system, Systems Thinker, Retrieved November 20, 2006 from: http://www.co-i-l.com/coil/knowledge-garden/cop/lss.shtml