June 2001 // Volume 39 // Number 3 // Ideas at Work // 3IAW2
4-H Master Tree Steward Program Teaches Thousands
Abstract
The 4-H Master Tree Steward Program teaches thousands of school children about trees. The article describes, step-by-step, how to create a successful volunteer program. The author details information about how to recruit and train volunteers and how to get schools involved. Adults interested in learning about trees can get training to carry out this type of program. The author describes how the program has worked in his county since its creation in 1992.

---
The Master Tree Steward Program
I showed the fourth graders a tiny Sequoia seed on the tip of my finger (a seed no bigger than a grain of rice that could grow into a tree with a diameter as wide as two cars end-to-end). I could hear many of them say, "Wow!." I looked up from the seed to the faces in the room. The wide eyes and open mouths showed amazement at this wonder of nature.
We have seen this look of wonder on the faces of many children since 1992. Since then, the 4-H Master Tree Steward volunteers and I have taught about trees to over 17,000 Union County youth.
Training 4-H Master Tree Stewards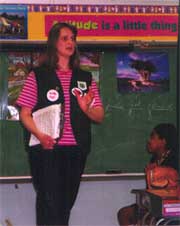 The 4-H Master Tree Steward Program trains adults to teach children about trees. Upon completing this free training, the volunteers share their knowledge with schoolchildren. This is accomplished by first teaching the volunteer adults.
The training sessions run from 2 to 4 hours every Wednesday from September to December. Volunteers learn about the life cycle of conifers (pine, spruce, etc.), broad-leafed trees (oak, maple, etc.), parts of a tree and leaf, how trees make food, and how trees change through the seasons. They also learn how to identify common local trees and how to show their appreciation of the beauty of trees by sketching and writing poems about them. For a final lesson, we visit a fourth grade classroom where the volunteers watch me teach the children about trees. It is the same 50-minute lesson that they will teach when they finish their training.
Once the Master Tree Stewards have completed the training program, I follow this up with monthly advanced training sessions. These sessions not only provide them with new information and techniques for teaching children, but they are a good opportunity for the group to stay bonded.
The training classes are taught by me and others knowledgeable in the field of forestry or environmental education. These consist of arborists, agricultural agents, foresters, Extension specialists, and forestry professors.
Recruiting Volunteers
On average, 10 people are recruited each year to become Master Tree Stewards. They learn about the training through the 4-H newsletter, local newspapers, flyers displayed at garden centers and local libraries, and word-of-mouth from other Master Tree Stewards. I also conduct a tree giveaway program that generates names of many potential volunteers.
Requests for more information are answered with a three-page flyer that describes the program in detail. It contains a class schedule that lists the topics covered in the training program and decribes the volunteer portion of the program and an application. The application is composed of 10 short questions, the answers to which provide us with important criteria to qualify or disqualify the person for the training and for working with children.
The Goals of the Master Tree Stewards
One of the volunteers who helped start the Master Tree Steward Program, Karen Kotvas, said, "The school enrichment program is all about getting the kids to become aware of trees and appreciate them." We believe this is an important goal, because many children aren't aware that trees are living organisms and are capable of many amazing things.
We accomplish this goal by focusing on what trees provide us with, such as wood, food, and paper. We also emphasize some amazing facts about trees. For instance, when the tallest tree (California Redwood) is laid on its side, it is as long as a football field; the oldest tree (Bristlecone Pine) is over 4,000 years old; and a full-grown tree can drink 250 gallons of water a day. These facts amaze the fourth graders we teach. We also promote the proper treatment of the trees around us. We do all this in an enjoyable way by using posters, tree seeds, cones, cross-sections, and a game that we call "Tree Jeopardy." When the volunteers are ready to go to the schools, each person receives a loaned box that contains the items they will use to teach a class (seeds, cones, posters, cross-sections, and a copy of the game, "Tree Jeopardy").
Setting Up the Program
The process we use for scheduling the classrooms is very efficient. In October, we send a letter describing the program to all school principals in Union County, along with a signup form. The sessions are limited to 25 children.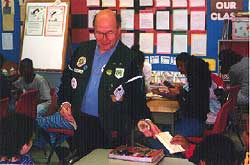 The signup form includes:
Dates that the Master Tree Stewards are available (Wednesday afternoons, January through May),
School name,
Location,
Contact person,
Telephone number,
What time the class returns from lunch,
What time they prepare for dismissal, and
Where to park.
When the signup forms are returned to our office, they are dated upon receipt. A sheet containing the school information is designed and printed for each Wednesday that the Master Tree Stewards will be teaching. The Master Tree Stewards then use these day schedules to select the dates and schools where and when they wish to teach.
Conclusion
Starting a Master Tree Steward Program, including the time to prepare for and run the training classes, will take from 80 to 100 hours of your time. However, if in that time you train 10 volunteers, they in turn will be able to teach about 2,500 students in a 5-month period.
Copies of Master Tree Steward Application Forms, flyers that describe the program, and a course outline are available by contacting the author at Rutgers Cooperative Extension of Union County, 300 North Avenue East, Westfield, NJ, 07090-1499. Enclose a 9" x 11" self-addressed, stamped ($.97) envelope.