June 2000 // Volume 38 // Number 3
Editor's Page
This "Editor's Page" begins with a tribute written by former JOE board member Judith Jones about the University of Missouri's Jim Summers, a leader of Extension and of the Journal of Extension.
A Real Leader
When Dr. Jones sent me her text, she prefaced it with "Please rework as you see fit. Jim was a wonderful guy." No reworking was necessary. Her words are a true testimonial about a man whose contributions are evident on every "page" of JOE.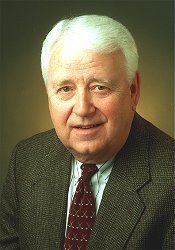 On August 6, 1993, in a small conference room on the campus of the University of Wisconsin, Journal of Extension board president Jim Summers convened the meeting with news of JOE's budget problems and the increasing costs of printing and publishing a professional journal. We were all worried that JOE would end and our profession would have no alternative to take its place.
Jim had obviously done some very serious thinking about the problems and put forward a very radical idea--an electronic journal! In 1993, this was indeed a radical idea. No other hardcopy journal had ever moved to a completely electronic format. The very idea of replacing a hardcopy journal with something one reads on the computer screen was strange, to say the least.
Jim had an idea, and he had leadership ability. He led our board and the system to take a chance on something new and visionary. He visited Extension directors and administrators, attended regional meetings, held conference calls, wrote letters, and persuaded our system to reach out beyond the technology we had at that time to a future with almost limitless possibilities.
Now, having a journal pop up on our screens seems completely natural. JOE has flourished and become even stronger, thanks to Jim's vision. Jim knew what he was doing, and we are all grateful for his vision and his tenacity.

Jim Summers, a real leader, died on May 15 after a courageous battle with cancer. We will always remember Jim for his gifts of his talents, his time, and his friendship.

Judith H. Jones
Associate Director-Administration
Virginia Cooperative Extension
Blacksburg, Virginia
Internet address: judith@vt.edu
June JOE
In my last "Editor's Page" I made fleeting reference to "high tech" and "high touch." The June issue goes from high touch to high tech and back again--as do all of us in Extension.
The Commentary, "The Gift of a New Generation," and one of the Ideas at Work, "Learning from Those Who Leave," pay particular heed to the people in Extension, to what we're like, how we're changing, and what we need.
In between, "Southern Extension Leadership Development: Leadership Development for a Learning Organization" focuses on our leaders and on leadership models.
Then we have "Satellite Uplink vs. Videotape in Borrower Training" and "The Influence of Cellular Telephone Usage on the Perceived Role and Functions of County Agents" addressing how and when we use new and newer technologies.
That's not to mention the seven other articles and what we can learn from them.
Laura Hoelscher, Editor