December 1999 // Volume 37 // Number 6 // Feature Articles // 6FEA4
Defining Your Customer Profile - An Essential Tool
Abstract
Defining the customer in terms of wants, needs and desires is essential if Extension personnel are going to successfully deliver educational programs to their clientele. Defining whom the customer is in respect to what commodities are produced and how the customer prefers to receive information are two important criteria for the success of educational offerings. Data base management programs coupled with data collection tools can allow Extension personnel to do program marketing and reporting to the stakeholder.

---
To succeed in business, decision makers must keep abreast of the continuously changing wants and needs of clientele, and motivate them to purchase their product. While Extension does not market tangible goods, the products we deliver are educational programs and services. The information we purvey is intended to increase customers' knowledge and ability to make informed decisions, and improve their lives. Given this significant role, can Extension staff be any less informed about client needs and wants than business? Can we afford to be any less sophisticated than business in motivating clients to take advantage of what we offer? Probably not, but identifying constituents' needs and motivating them to attend an educational program is a formidable challenge.
Defining the wants and needs of their customer base was an important priority for counties in the Quad Cities Extension Cluster. Historically, the group had classified agricultural customers in broad terms as livestock producers (beef, dairy, pork or other species) and as crop producers (wheat, hay, corn or soybeans). Recognizing that farming operations today are becoming increasingly specialized and complex, Extension personnel determined to change strategies to meet these new realities. For example, mailing lists used for advertising educational programs were usually general and not defined enough to do targeted mailings. As a result attendance at educational programs was declining annually even though current issues important to agriculture were being discussed. Two questions raised by staff were:
Do we as extension personnel know enough about our customer to compete with other providers of educational information?
Do we really know the wants and needs of our customer for educational information?
To answer the above two questions, a group of Extension personnel from the Quad Cities Extension Cluster began a collaborative effort to develop a tool for profiling customers. The Customer Profile requested information in the following areas:
Demographics
Enterprise(s)
Preferred methods of receiving information
Business management practices
Major sources of information used in making management decisions
The Customer Profile was administered at all agricultural related meetings. Data was entered into a database management program. The program development process was greatly enhanced as a result of the utilization of this tool. We now had the capability to analyze the wants and needs of our customer, a basic building block to developing strategies to build client desire to attend educational programs.
Staff felt that motivation to attend Extension programs is fostered by addressing the current issues facing agricultural producers. The Profile is a perfect vehicle for soliciting unbiased information on the current issues, and anticipating future challenges. It also facilitates clarification of or honing in on current issues through the administration of random surveys. This is especially useful for planning groups such as Extension Councils and their program sub-committees. Targeting producers with certain enterprises is another means of identifying program needs especially when that particular group is not represented on the Extension Council.
The ability to develop effective marketing strategies is another key benefit of utilizing the Customer Profile. Target marketing is possible, for example, as it is designed to ascertain the nature of a farm operation. Staff can identify producers that have a cow-calf operation, farrow to finish, grow corn or soybeans, or combinations of any of the categories included on the profile. As a result we can query the database and disseminate information only to those producers who would benefit from it. Recently we honored a request for a targeted mailing to cow-calf producers.
In addition, information derived from the profile can be used to assist Extension staff in making decisions about where to offer programs. For example, if one county in the group has the largest populations of beef finishers, the program designed for that audience would be offered there with other producers from surrounding areas invited to attend. A database query might also indicate that there is not a sufficient population within the multi-county group to offer any program to a specific targeted audience. If that is the case, a regional or statewide approach to programming might be considered. An important benefit of having the ability to understand the critical mass available for a particular educational programs and services results in more cost-effective and cooperative programming. Fiscal and human resources are efficiently deployed as counties or regions unite through joint programming efforts to reach targeted audiences.
Critical to effective marketing is understanding how customers prefer to receive information. Extension personnel can avoid costly mistakes made as a result of using a delivery method that is not likely to be user friendly. See (Table 1 ). The Profile revealed that a preferred method identified by producers for receiving information was reading. Based on this, our multi-county group developed a newsletter in 1995 designed to provide information about research based initiatives. Recent evaluation of this publication shows that the newsletter is an effective vehicle for disseminating research-based information.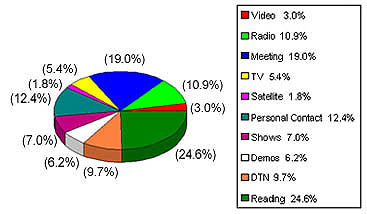 TABLE 1
A zip code analysis provides information about areas of the county served and identifies undeserved areas. This enables us to focus attention on underrepresented geographic areas should the size of the population warrant it. Zip code analysis allows staff to tap into other databases available through outside sources. By using GIS software, we can plot the zip codes in our database to visualize physical distribution or demographic characteristics of populations living in a selected zip-code area.
A frequently overlooked marketing strategy in Extension is to gain knowledge of the competition. The Ag Profile has a section which provides the producers an opportunity to identify sources of information they rely on in making management decisions. (See Table 2 ).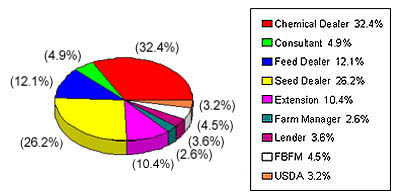 TABLE 2
One fact apparent from Table 2 was that we had serious competition from chemical and seed dealers. As a result of this discovery, we decided to gain more information about the nature of the competition from seed dealers. A small survey has been sent to a random sample of the producers in the profile to acquire additional details. It is intended that the results will be utilized in future marketing and program planning efforts.
Increasingly, county-based Extension offices have been asked to provide stakeholders such as county boards and local funders with evidence that the money provided to Extension is a wise investment. As noted above, instruments such as the Customer Profile are important tools that enable us to develop a strong rationale for our existence. Staff members can report to supporters that they are making wise and cost effective decisions based upon data, rather that feelings or assumptions. Through targeted marketing, we can eliminate unnecessary materials and staff costs utilizing a multi-county approach to programming and better understanding of how our customers like to receive information.
We can also report to interested parties important information about the vitality of our operations. For example, information in our database shows us that we are not just serving the 60+ producers who have been our audience for years. The majority our clients are between 31-60 years of age. (See Table 3). Additionally, producers between
20 and 30 years of age are using Extension's programs and services. From this data, we can infer that we are successfully serving all age categories of producers, and not just the 60+ who may be soon retiring.

TABLE 3
As we move into the 21st Century, we believe that increased demands will be made upon Extension by stakeholders, University administrations and other interested constituencies to justify its existence. Tools such as the Customer Profile will enable extension professional to successfully meet the challenge. As we have noted above enlightened decision making in the areas of program planning and development, marketing, stakeholder reporting, and developing measures of accountability can be the rule rather than the exception. Can we afford to ignore this opportunity?