Fall 1991 // Volume 29 // Number 3 // Ideas at Work // 3IAW4
Not Quick and Dirty, But Simple and Clean
Let's face it-"evaluation" is still a dirty word when it comes to busy Extension professionals. Educators are more interested in helping clientele solve problems than doing evaluations, with all the time it takes.
Time is the key word. Where can an Extension professional find time to produce a data collection instrument that will improve teaching and programming? The answer lies in keeping our eyes open for "quick and dirty" evaluation instruments and approaches, while at the same time completing the daily job duties. Most of us aren't above stealing an idea (if it works), even if it's in evaluation!
One workable idea making limited rounds in Extension circles is the "Evaluation Card" (see Figure 1). This card is designed to measure three aspects of each presentation: knowledge gained, quality of presentation, and usefulness of information.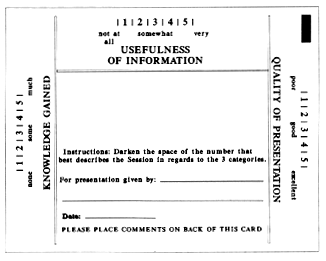 Figure 1. Evaluation card.
It's simple to use. At the end of a workshop, 3 x 5 cards are given to participants, with these instructions:
To evaluate this workshop and to plan for future workshops, we need your help. Please take one of these 3 x 5 index cards and circle the numerical score that you wish to give the categories along the three edges: knowledge gained, quality of presentation, and usefulness of information. Remember, one is the lowest (poorest) score, and five is the highest (best).

Then, on the blank side of the card, answer the following question in as many words or phrases that you wish: "What was your reaction(s) to this workshop?"

Be sure to label the center of the front of the card with the name of the presenter and the date. We'll gather these cards as you leave.
In a few minutes, the program presenter has a numerical measure on the amount and potential use of perceived information transferred, as well as a score on the methods of presentation. Just as much information (if not more) is provided through the written comments, so strongly encourage these.
Very quickly, both quantitative and qualitative data can be collected. By arranging the cards so that all "black corners" are aligned, a simple ripple of the "deck" on each of the three edges provides instant feedback. Key elements for improvement can also be received by looking at the written comments-an evaluation with numbers and comments. It's simple and clean!
Footnote
1. L. Faulkner and A. Williams, The FCL Evaluation Card (Bozeman: Montana State University, Center for Data Systems and Analysis, 1981).