Summer 1990 // Volume 28 // Number 2 // Research in Brief // 2RIB3
Master Gardeners: Views from the Cabbage Patch
"Multitudes of citizens with gardening problems needing individual explanation and too few professional Extension staff members to physically answer each individual question" is how Wesenberg and Whiting expressed the dilemma facing Extension horticulturists.1 To satisfy this need, the Master Gardener program was born in Washington State in 1972, enabling volunteers interested in horticulture to be trained in basic horticultural topics by Extension Service personnel and then answer calls about gardening problems and promote horticultural understanding in their communities. Idaho's Master Gardener program began in 1977 and today has grown to 200 Master Gardeners in 11 counties.
Our research was undertaken to discover the motivational factors that attract Master Gardeners to the program and to determine if the perceptions about the quality of their training are different between Master Gardeners and the Extension Office. Prior research was reviewed.2 The questionnaire was validated in Spokane County, Washington, and then mailed to 161 active and inactive Idaho Master Gardeners.
"Why Are You a Master Gardener?"
When asked this question, 51% of the Master Gardeners said they wanted to increase their knowledge for their own use. Complete results are shown in Figure 1.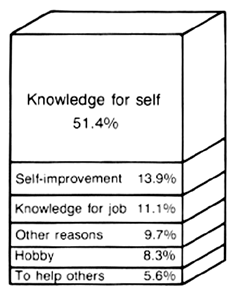 Figure 1. Reasons for becoming a Master Gardener.
Another primary reason for joining the Master Gardener program was self-improvement (13.9%), while another 11.1% became involved to increase horticultural knowledge for their jobs. A little surprising was the fact that only four Master Gardeners (5.6%) joined the program with the primary goal of helping others! Grieshop, in a survey of California Master Gardeners, received a similar response concerning motivational factors of the Master Gardener program.3 The Master Gardeners looked mainly at the educational benefits available through the program rather than opportunities it offers to help others. No doubt intrinsic factors such as helping others and the community are important, but they aren't the primary motivators to join the program.
Blue Ribbons Go to the Trainers
Master Gardeners gave high marks when asked to evaluate their training. They were asked to rate the usefulness of 14 different training topics on a 5-point Likert Scale with 1=poor to 5=excellent. Master Gardeners gave a high score of 3.91 to overall usefulness of training topics. Insect problems rated the highest (4.31), followed by pesticide use (4.24), and plant disease (4.18). Even the two lowest ratings scored good on the Likert Scale - greenhouse/nursery management (3.91) and household plants (3.35).
Using This Research
Publicity for the Master Gardener program should stress the educational aspects of the program, because most Master Gardeners become involved to learn more about gardening or for other areas of self-improvement.
Master Gardeners appreciated the training they received. Insect problems, pesticide use, and plant disease received the highest rating.
The factors the Master Gardeners shared in the Idaho study that contributed to the success of the program can be used by Extension professionals in developing other Master Gardener programs.
Footnotes
1. B. G. Wesenberg and D. E. Whiting, "Master Gardeners Answer Questions," Ornamentals Northwest, 1 (No. 15, 1977), 1-2.
2. Kathleen D. Carlton, Perceptions of Master Gardeners Regarding the Training They Received and the Effectiveness of the Master Gardener Program (Master's thesis, University of Florida, Gainesville, 1981) and Michael Ensor, Examination of the Volunteer Master Gardener Program in Maryland with In-Depth Examination of the Programs in Three Selected Counties (Master's thesis, University of Maryland, College Park, 1985).
3. J. I. Grieshop, "Growing with Master Gardeners," California Agriculture, XXXVI (No. 7, 1982), 17-19.