Fall 1990 // Volume 28 // Number 3 // Ideas at Work // 3IAW3
It's Fresher from Ohio
"It's Fresher from Ohio" is a new program about a very old idea...the tradition of local farmers selling their fresh products to their nearby "city" neighbors. Sometime over the past 50 years, that tradition was lost. Now the Cleveland food industry has shown a renewed interest in revitalizing the link between farmers and local buyers. Chefs from Cleveland restaurants are actively seeking local farmers who can supply their restaurants. Supermarkets are purchasing some local products, and are interested in meeting farmers and purchasing more. At the same time, Extension agents in northeast Ohio are working with producers who are interested in increasing their markets for products such as fruits and vegetables, maple syrup, meats, herbs, wine, and dairy products.
What Did We Do?
"It's Fresher from Ohio" began in 1987, as a pilot in six counties in northeast Ohio. The overall objective of this project was to increase the marketing of fresh northeast Ohio agricultural products in the Cleveland area.
This unique project provides a forum for producers and wholesale and retail buyers to get to know each other in a variety of activities, including conferences and trade shows where producers exhibit their products and Cleveland's most celebrated chefs prepare fresh Ohio foods. Product specific tastings allow buyers of speciality items to learn more about how these products are grown, processed, and marketed.
Producers learn about post-harvest handling, packaging and grading produce, and salesmanship through formal and informal meetings. Project participants read a lively monthly newsletter and consumers learn more about Ohio agriculture through news releases. A copyrighted logo is used to identify the project and to help promote fresh Ohio products.
Did it Work?
Recently, a telephone evaluation of the project was completed. Seventy-seven project participants were interviewed. Forty percent of those surveyed were producers, 39% were buyers, and 21% were both. Some highlights:
Forty-five percent of the participants increased their dollar volume of business.
Some producers reported greater than $100,000 estimated increase in sales as a result of "It's Fresher from Ohio"; others reported no sales increases.
A remarkable 88% of the buyers indicated an increased awareness of Ohio agricultural products and, even more importantly, 65% increased their purchases of Ohio agricultural products. Buyers reported an average increase in purchases of $2,679; the range was from $200-$17,500.
The survey data show that a great variety of Ohio agricultural products were bought and sold, including grains, herbs, produce, processed foods, mushrooms, wine, dairy products, and livestock.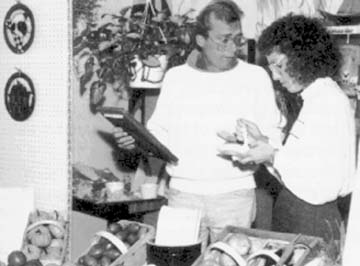 Producers and buyers meet in Ohio's fresh market.
The "It's Fresher from Ohio" project has demonstrated Extension educational programs have the ability to influence the marketing habits of both producers and buyers of agricultural products. The project has provided a vehicle for the local food industry to reestablish markets in its own backyard.