Fall 1988 // Volume 26 // Number 3
Editor's Page
Isn't Marketing More Than "Stuff"
One of the Extension buzz words of the 1980s has been marketing. During the late 80s, Extension and other educational organizations have experienced increased competition for limited funds. As competition increases, marketing will become even more important. The key to Extension's survival in the1990s rests on our ability to increase the quality and visibility of our organization and educational programs through aggressive marketing. However, it seems to me that many of our marketing efforts have been directed at the promotion aspect. I see and hear of all kinds of "stuff" being developed and purchased that will make Extension more visible to the public. All too often our efforts aren't directed to all the P's of marketing.
Fischer defines marketing as:
A combination of activities required to direct the flow of educational programs and services from the higher education institution to the consumer in a form, place, and time, and at a price that is best able to satisfy the consumer's needs.1
This definition is in line with what we usually hear described as the five (plus one) components or P's of marketing.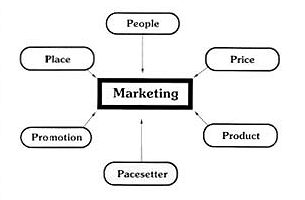 Promotion. Creation and communication of an appropriate and consistent image (name, logo, color scheme) to decision makers and the general public. It includes the communication of impact and blowing Extension's horn.
Place. Actual location where Extension clientele receive our programs.
People. Our clientele as well as all Extension staff. It includes our actions and the response of clientele to those actions (two-way communication). It's essential to implement and evaluate programs based on identifiable needs of target audiences. Using a marketing team that includes every Extension staff member from secretary to administrator is a necessary ingredient.
Price. Cost to our clientele for our programs.
Product. Programs we implement to satisfy the needs identified by our clientele.
Understanding and using marketing effectively is everyone's responsibility in Extension. As Walshok says, we need to know how to adapt organizational resources and capacities to constituent needs.2 This is a challenge we all have to face. As we continue to move into issue programming, an understanding of this adaptation process is crucial.
Walshok provides us with the following three marketing goals:
Clarify your mission and identify your constituencies. In clarifying the mission, she asks us to consider the following questions: For what is the parent organization (university) best known? What societal needs and constituencies does the parent organization serve? With what educational services and constituencies are we (Extension) identified? What steps is Extension taking to better describe the educational needs? How do the current and potential services and constituencies of Extension fit with those of the parent organization?
Implement an ongoing exchange process with important stakeholders through dialogue and planning. Walshok says that at a minimum this dialogue needs to take place at three levels - within Extension, between Extension and the university, and between the professional Extension staff and the various constituencies that Extension's committed to serving.
Communicate, promote, and evaluate success with targeted constituencies. Most people normally think of this as marketing. However, this is only one of the marketing goals. I agree with Walshok-no amount of promotion and use of "stuff" will be enough for Extension to survive in the future.
We must realize we determine the image of Extension. Our attitude and projection of that attitude are the first and foremost keys to a successful marketing strategy. Therefore, I'd like you to consider adding a sixth component or P to your marketing vocabulary-Pacesetter. The intensive and extensive use of the first two marketing goals and the awareness and use of all five components of marketing should enable you to be a Pacesetter - the one that takes the lead and sets the example.
This special issue of the Journal should also give you some ideas for being a Pacesetter. The articles focus on marketing as a three-part process:
Marketing the Cooperative Extension organization. Creating an awareness of the organization and the impact of its programs.
Marketing the education programs. Designing and constantly improving educational programs to satisfy the needs of people.
Relationship marketing. Developing, maintaining, and expanding constructive relationships with key decision makers, community leaders, volunteers, clients, staff, and media representatives.
A special thanks to Bill Boldt, Research in Brief editor, who reviewed each manuscript we received for this special issue. His input was helpful in compiling a marketing issue for the Journal of Extension that will be a useful resource for Extension staff.
Footnotes
1. Richard B. Fischer, "Successful Marketing Strategies and Techniques," in Handbook on Continuing Higher Education, Quentin H. Gessner, ed. (New York: Macmillan Publishing Co., 1987), p. 167.
2. Mary Lindenstein, "Developing a Strategic Marketing Plan," in Strategic Planning and Leadership in Continuing Education, Robert G. Simerly and Associates (San Francisco: Jossey-Bass, 1987), p. 152.
PJB