Fall 1988 // Volume 26 // Number 3 // Feature Articles // 3FEA2
Never Miss an Opportunity
The most powerful medium for marketing Extension is its paid and volunteer staff. They project positive, neutral, and negative messages every time they answer a phone, develop a newsletter, communicate with elected officials, or conduct an educational meeting. Everything and everybody in an organization talks. Extension communicates hundreds of marketing messages every day. The actual choice isn't whether to practice marketing or not, but whether to practice it well or poorly.
All marketing efforts start with staff. Marketing should become an integral part of everyone's job from the janitor to the director. Staff should be trained in marketing and given the tools to effectively and consistently communicate Extension's message. Marketing should be viewed as a process and an attitude. Knowledge, commitment, and ownership of Extension organization's efforts breed passion and enthusiasm for marketing the organization and its programs. Here are the key components of an effective, team-oriented marketing process.
Establish a Permanent Marketing Committee
A permanent marketing committee can help develop, refine, and legitimize the marketing process in the county or unit. The committee should include professional, support, and volunteer staff. Include individuals who represent each of Extension's program areas and administration.
Develop a Consistent, Understandable Organizational Language
All staff must be trained in how to communicate organizational philosophy, values, and direction accurately. This common language starts with a one-page organizational vocabulary sheet, which includes:
Organizational name, which gives credit to all funding partners.
Logo.
Official colors.
Slogan.
Mission statement-short and concise.
Strengths.
Simplified 30-word, organizational description.
Critical educational issues being addressed.
This organizational language should be communicated consistently and constantly to clientele, elected officials, media representatives, and the general public.
Develop Visibility Materials
Standard materials for all staff to use on a daily basis include a one-page organizational vocabulary list, name tags, business cards, an organization I.D. sign to be used at meetings, slide or overhead depicting organizational name, logo, slogan, and a one-page flyer describing Extension and its educational programs. Optional materials include pins, briefcases, coats, hats, folders, and other materials promoting organizational identity.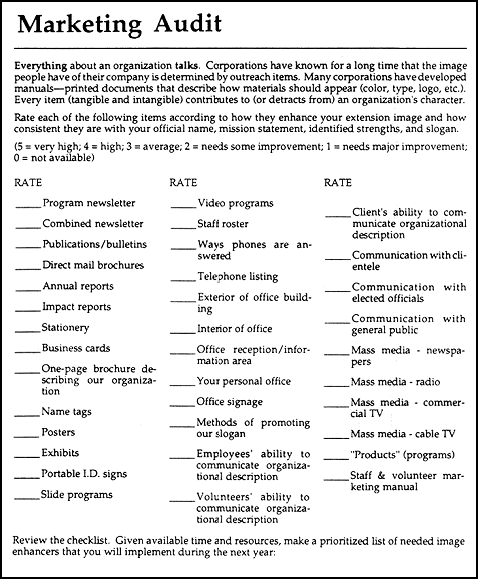 Promote Extension at All Meetings
At every meeting:
Wear permanent name tags.
Distribute "crack and peel" name tags that include organizational identity.
Display a sign that identifies Extension and the county or unit.
Plan five minutes to provide an overview of the Extension organization and its educational programs.
Include in the visual presentation slides or overhead transparencies describing Extension and the statewide program issues.
Hand out a one-page information flyer describing Extension and a current issue of a newsletter.
Conduct Quarterly All-Staff Meetings
Clear communications with staff through quarterly meetings is important in developing a clear understanding about the direction and impact of each educational program. The quarterly meeting could include five-minute reports from every staff member, outlining past accomplishments and upcoming activities. Too often secretaries and agents develop tunnel vision by being exposed to only one program. A primary objective of a successful marketing effort is to educate everyone about all the organization's programs. This education process develops understanding and promotes each educational program to media, decision makers, clientele, and the general public.
Develop a Roster
Extension staff members are often very humble. Most professionals have advanced degrees and years of specialized training. Often decision makers, media, clientele, agency professionals, and the general public are unaware of the expertise and current responsibilities of staff. A staff roster outlining the responsibilities, education, and experience of the professional and support staff can market the quality of staff to decision makers and clientele. Including pictures personalizes the roster.
Develop a One-Page Brochure
A key document in every marketing campaign is a simple, informative, attractive brochure telling the Extension story. This brochure should only be one page long and contain photographs and interesting script and statistics.
Develop a Promotional Newsletter
Most county Extension staff distribute four or five program-oriented newsletters monthly. A single promotional newsletter, combining information about all of Extension's educational programs is an effective marketing tool. Promotional newsletters should highlight all of Extension's educational efforts and include numerous photographs, success stories, and a calendar of upcoming events. A number of counties contract with local newspapers to print these combined newsletters quarterly or semi-annually. The promotional newsletter is an outstanding marketing tool to inform elected officials about the impact of Extension, to educate the general public about the scope of Extension's programs, and to inform clientele about the variety of educational programs.
Develop a One-Page Impact Sheet
The most powerful marketing tool is a successful educational program. Each professional should identify his/her most successful educational program of the year and promote it through a one-page impact statement, focusing on the difference Extension made on the participants' lives. It should include a statement of the educational need, a description of how Extension responded, and the impact. The statement should be distributed to elected officials, key clientele, and the media.
Conduct Marketing Audits
Each Extension office projects hundreds of messages every day and every message projects an image. Quality control is an essential component of marketing. Periodic marketing audits must be regularly done by staff to determine organizational strengths and weaknesses. A prioritized list of image enhancers should be developed after each audit. This list can help determine short- and long-range marketing objectives (see Table 1).
Include Marketing in Descriptions and Appraisals
Adding marketing responsibilities to job descriptions and performance appraisals adds credibility to the process. It legitimizes marketing and can help staff strive for excellence in their marketing efforts.
Conduct Brainstorming Sessions
Regular meetings for staff and board members should include creative methods of promoting organizational identity, improving educational programing, and developing effective marketing strategies to influence media and elected officials.
Join Service Clubs and Network with Other Agencies
The most powerful marketing medium is word-of-mouth. Staff active in their community make thousands of additional contacts with hard-to-reach audiences.
Develop an Incentive Program for Marketing Efforts
An incentive program recognizes exceptional efforts in marketing and customer service. This program can include awards, recognition, or salary increases.
Staff should be trained and encouraged to "never miss an opportunity" to market Extension. Extension's future depends on the success of the marketing team. A successful, team-oriented marketing process increases organizational visibility, identifies and publicizes the impact of educational programs, and bolsters the morale of staff.