Spring 1986 // Volume 24 // Number 1 // Ideas at Work // 1IAW1
Forestry Field Days - An Old Idea That Really Works
Even in this era of computers, advanced communication systems, and mass media domination, outdoor field days can be a very effective educational method. Iowa experience demonstrates that teaching forestry topics using this rather traditional Extension technique generates excellent audience response, promotes understanding, and stimulates changes in attitudes and behavior.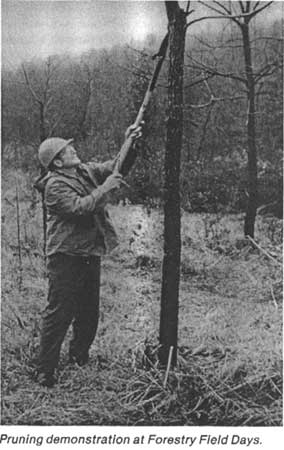 Forestry Extension at Iowa State University initiated Forestry Field Days at 2 sites in 1976. This program has grown dramatically since that time. Over the 10-year span, Forestry Field Days have been held at 34 different Iowa locations. In several locations, they're annual events; at other sites biannually. Two sites have hosted a Forestry Field Day each year since 1976. Currently, a typical year will involve 10 to 15 Forestry Field Days in Iowa. Attendance will range from 20 to 200, with an average of about 50 people.
Demonstrations, outdoor laboratories, woodland tours, and other techniques have been used to tell the forestry story in Iowa. The basic mission of Forestry Field Day programs is to encourage improvement and expansion of tree resources in the state. We want to make landowners more aware of the importance and utility of woodland resources and promote positive attitudes. We also aim to increase the participants' knowledge of basic management skills and cultural techniques.
Initially, most Forestry Field Days were held in September or October. Fall is still the preferred season, but, in recent years, several field days have also been scheduled during April or May. A variety of teaching sites have been used, including state forests and parks, county parks, and private property. The Iowa Conservation Commission has been an active cooperator and co- sponsor in this program effort. In addition, county conservation boards and the Soil Conservation Service have contributed to many field days.
Forestry Field Day programs may be all-day sessions or afternoon events. Topics considered in these programs cover a broad range and are determined by a local planning group. Members of the planning group typically include service foresters, county Extension staff, county conservation board staff, the local host, and Extension foresters. Specific programs are tailored to local needs and conditioned by past programming.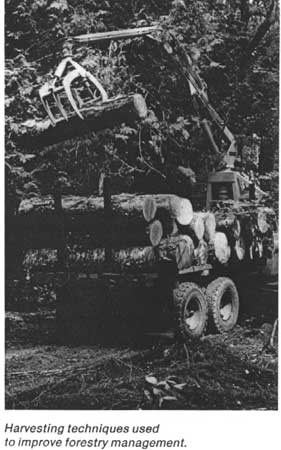 Every subject from tree identification to proper processing and use of native lumber has been discussed at Forestry Field Days over the past decade. Both establishment of new tree plantations and the management of existing woodlands have been stressed. Weed control, thinning, pruning, pest management, tree measurements, harvesting, and marketing have been considered. The variety of benefits and products from woodlands has been highlighted, including wildlife, erosion control, Christmas trees, firewood, and veneer and lumber logs.
In February, 1985, a survey of Forestry Field Day clients from 6 different locations was made to assess the usefulness and value of this program. These particular locations were chosen because a Forestry Field Day had been held in those counties each of the last three years. A total of 452 questionnaires were mailed; 266 clients responded to the survey.
Tabulation and analysis showed that Iowa Forestry Field Days have been very helpful. A high percentage of the respondents felt they received the following benefits: increased interest (89%), greater satisfaction (81 %), improved planning expertise (79%), increased confidence (75%), improved basis for decision making (74%), and greater skills (68%).
Action was also generated by participation in Forestry Field Days. A substantial percentage of respondents indicated they had: shared program information or materials with others (78%), sought additional information about forestry (64%), implemented specific management changes on their woodland (53%), requested field help from their service forester (52%), planted additional acres to trees (43%), reduced property taxes on woodlands by using special treatments available for Iowa forests (39%), and became a "Tree Farmer" (26%).
About 80% of the respondents were willing to estimate a dollar value for the benefits received by attending Forestry Field Days. The total value for the 213 people who responded was conservatively estimated at more than $100,000, or an average value of about $500 a person.
In Iowa, Forestry Field Days obviously represent an idea whose time has come. The interest continues to be high, and expansion is only limited by staff time and financial resources.